Preview for AEW Revolution 2.29.20
I break down the story and matches for this Saturday AEW PPV: Revolution
25 years ago pro wrestling was changed. World Championship Wrestling (WCW) emerge to give World Wrestling Entertainment a run for their money. That began the Monday Night Wars - everyone's favorite topic to discuss. It's so relevant for today.
All Elite Wrestling was founded on January 1, 2019. A year later, AEW is stronger than ever and got a contract renewal with TNT until 2023. The naysayers are quiet now. AEW, indirectly, is putting pressure on WWE to perform better. While this isn't the 90s anymore when WCW declared war on WWE, it's similar. AEW Executives Vice Presidents: Nick and Matt Jackson (Young Bucks), Kenny Omega, and Cody Rhodes indirectly declared a healthy slient war between the two companies. And of course both companies won't dare admit that they're in a silent war. I know, it's 2020! Wrestling ratings and war don't matter like how it did in the 90s. But for my first time wrestling followers, I have to set the scene. I don't care about ratings. I care about performances and story and which company is keeping me watching. Well the winner is AEW. With the emergence of this company, Revolution fits. At first I was against the title because it's cheesy and out dated. I get it, every step taken is a revolution — a testament to the world that wrestling needed a fresh new take on the sport, thus AEW timely came about. So let's break down the match card!
PAC vs Orange Cassidy
Why? It's a subtle storyline between these two. Nothing heavy. But maybe we'll see more from Orange Cassidy ever since his debut in AEW. Hardcore indie fans know of Orange Cassidy. They understand him. The vast majority don't. Orange Cassidy is a comedy act but he knows how to wrestle. He moves swiftly around the ring with his hands in his pockets. He glides effortlessly. His shin kicks are profound — explosive! As for PAC…he might be way more serious than Lance Storm. Now Lance Storm is a serious wrestler, often saying: "Can I be serious for a moment!" PAC is undeniably my favorite to watch. He captivates the audience with ease. His promos are the best. Hypes up the story and his opponents always making sure they understand that he's the better wrestler. And PAC is the better wrestler — he's always full gear ready.
So why is PAC fighting Orange Cassidy? This past Wednesday, Feb 26, 2020 was AEW Dynamite on TNT. PAC just came off a defeat from Kenny Omega in their magnificent 30 min Iron Man match and during his interview with Tony Schiavone Orange Cassidy decides to come out. PAC attacks Cassidy and bam! A match was signed for this PPV. In the past weeks, PAC tagged with The Hybrid 2 (Angelico and Jack Evans) to take on Best Friends (Chuck Taylor and Trent) with Orange Cassidy. Their small fued started them.
Understand that Cassidy is the huge fan favorite. While PAC is also fan favorite for most, he's the heel. A heel going after the baby face (fan favorite) Cassidy, the crowd will react. Every time someone did something to Cassidy the crowd reacted.
This is why we are hear.
Prediction: PAC wins via Brutalizer finisher.
---
Dustin Rhodes vs Jake Hager
Dustin Rhodes is the son of Dusty Rhodes. Jake Hager used to be known as Jack Swagger in WWE. November 2019 saw Inner Circle member Jake Hager break Dustin's arm by smashing a car door into his arm. Back in the day, Dusty Rhodes had his ankle broken by Ric Flair with help from Enforcer Arn Anderson and Ole. Similarity. History always repeats itself.
From 2019 to 2020 Dustin has yet to have a match with Jake Hager. Jake Hager hasn't spoken or wrestle yet in AEW. He's the big body guard to Le Champion AEW World Heavyweight Champion Chris Jericho. Jake has also done some MMA matches on the side. So to build this feud, Dustin is trying so hard to get Hager's attention. Calling him "Jericho's Bitch" is, in my opinion, such a old man tactic that's outdated. Obviously, Jake Hager isn't biting. Hager didn't bit any of the bait and this build up is lopsided. Do I expect anything outrageous? No. I expect a brawl style match.
Prediction: Undecided
---
Kris Statlander vs Nyla Rose
Nyla Rose is the AEW Women's Champion. She defeated Rhio in a really good match. Rhio became the first ever AEW Women's champion but due to still being signed with Stardom in Japan it was only right to finally take the belt of her. Nyla Rose achieving the title means two things: she's a transitional champion and the company has faith in her ability to lead, to be a powerful force regardless of it being known she's a transgender athlete. Nyla has an amazing personality. In the end she's still a human being living a dream come true.
Kris Statlander is an alien. Calm down, she's an American playing an extraterrestrial alien character. Her in ring work is cool. She's athletic and fresh in pro wrestling. She has a lot of potential to grow. Kris should use her unique personality to develop her alien character more. I want it to evolve and be memorable. No one is doing this gimmick in pro wrestling. I can get behind her alien character because of that. She does this 'boop' thing to your nose and it's like she's communicating with you and that's all I know about that 'boop.'
Kris finally gets a title shot after missing a show due to prior booking. Nyla Rose is defending the title against Kris.
When is Dr. Britt Baker DMD going to get her shot? She was the first ever woman signed to AEW.
Prediction: Nyla Rose retains the title. Nyla just won it, and listening to all the hateful nonsense legit and stupid, won't have AEW take the title off Nyla. I would like to see a brand new belt introduced. That's so tiny on Nyla.
---
Darby Allin vs Sammy Guevara
Both are stars. Both wrestled on the indie scene. Darby Allin is super creative and uses his creativity to propel his Gothic-like skater character. He's the cool character every child wants to be and everyone wants to understand. He's quiet, only talking when needing too. His half face paint is like Two Face but he doesn't lie. He became an overnight sensation in AEW by simply riding down the ramp on his skateboard to jump at Le Champion Chris Jericho. However, he's been a sensation for a good while. I remember watching him live at an Evolve event that featured Kassius Ohno. Later that night it was Kassius Ohno (Chris Hero) vs Darby Allin. Ohno gained weight over the years to help his injured back so as he man handled Darby during their match I sat on the edge of my seat wanting Darby to stay down. Not because I'm a fan of Ohno, but just feeling the emotion of the match. Darby doesn't quit. Darby keeps fighting. Darby doesn't understand the phrase to "stay down."
Sammy Guevara is the Spanish God of AEW. Sammy Guevara grew from a small indie competitor to super star over the last couple of years. He produces a lot of organic wholesome content about his wrestling journey. He's an avid YouTube creator. Probably uploading content just as much and fast as Being the Elite. This is a free cheap plug but join his panda fam over at Sammy Guevara on YouTube. I watch his content as well.
Sammy's super smooth in the ring. He has an arrogance that makes him watchable and surprise fans with his crazy athletic no-fear assault. He's able to convey emotion in his matches and promos. It's mostly wanting to see him get beat up due to his arrogance. However, he's made a complete name for himself. Since joining the Inner Circle, his attention to detail has elevated. But when you are best friends with Chris Jericho who doesn't excel from the best?
In the past months, Darby had interactions with the Inner Circle. Darby had the opportunity to face Chris Jericho. Darby didn't win but showed the champion and the world that he's a future star. Since then, Darby and the Inner Circle crossed paths that lead to the Inner Circle attacking Darby when Darby would come to the aid of other wrestlers. Sammy took exception to this and decided to grab Darby's skateboard. Sammy positioned Darby's neck on the board and drove the skateboard down. Darby's throat got hurt and since coming back from recovery, Darby now uses cue cards to get his message across. Darby challenged Sammy for this match — for his revenge!
This match will be fast paced, crazy athletic moves, and lots of high flying inside and outside the ring. There won't be much chain wrestling.
Prediction: This is tough. I enjoy both wrestlers work. However…Darby needs to win for the sake of story.
---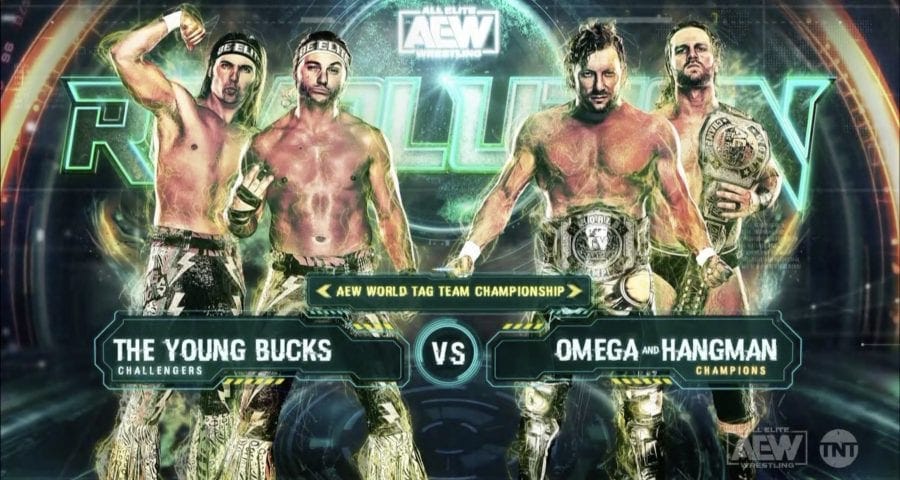 Matt and Nick Jackson (Young Bucks) vs Kenny Omega and Hangman Adam Page
Wow. This match is filled with years of Elite friendship even if Hangman wasn't part of it for the full 12 years. Omega had met The Young Bucks back in 2008 and over the years remained friends. It wasn't until 2016 The Elite became The Elite. The Young Bucks and Kenny Omega made a name for themselves in New Japan Pro Wrestling. New Japan Pro Wrestling had The Bullet Club. The Bullet Club was created by Finn Balor (Prince Devitt), Karl Anderson, Bad Luck Fale, and Tama Tonga as a means of friendship in a foreign land. In 2016, Kenny Omega went on to replace AJ Styles as Bullet Club leader. AJ Styles at the time was leaving for WWE. Kenny Omega and The Young Bucks became closer than ever and forming the YouTube channel of Being the Elite. Being the Elite chronicled their wrestling journey with creative skits that stretched out feuds, create stories, and emotional rides to love, boo, and cheer for them.
In 2018, Hangman Adam Page wrestled with Ring of Honor (2011 - 2018) and NJPW. Hangman was with Cody during this time. Cody introduced Hangman to The Elite and everyone then became friends. Hangman traveled with The Elite and appeared in several Being the Elite episodes. However, Hangman always felt left behind. The Young Bucks has multiple success as tag team champions, t-shirt sales and deals, wrestling awards, and more. Kenny Omega success is having a plethora of championships, multiple wrestling awards, the hot topic discussion of best NJPW champion, t-shirt sales, and a gamer in the community. Cody success is being a third generation wrestler, worked for WWE with memorable moments, won championships, and owned the independent scene. Hangman Page's success came as winning the Ring of Honor World Six-Man Tag Team Championships with the Young Bucks, winning Breakout Star of the Year in 2017, and currently All Elite Wrestling Tag Team Champion with Kenny Omega.
Hangman is the last of the four with limited accomplishments. Hangman was thrust into the title picture extremely early. As much as I am a fan of Hangman, he needed to grow before AEW gave him a chance to become the very first AEW Champion. But that long term storytelling turned out very well. Hangman was originally supposed to face PAC to determine the first ever AEW Champion. But due to "creative differences" that match became canceled. When the PPV All Out happened, it was advertise for Hangman to face Chris Jericho. Hangman didn't defeat Jericho that night. And Hangman began a downward spiral. Last year Hangman was on a losing streak. The cool thing about AEW is that they keep a win and loss record that plays towards receiving a title shot or not. And these win and loss records reset at the beginning of the year. This year Hangman's win/loss record reset and ended up winning tag matches. The formation of Hangman and Omega formed organically and situational. They are now our AEW Tag Team Champions.
During AEW Dynamite, there was some hostility between both teams during a sit down interview hosted by Jim Ross. Hangman feels like The Young Bucks haven't given him the proper congratulations yet and want to quickly swoop in to take the glory. Every since Hangman and Omega won the titles, the Young Bucks celebrated with Kenny before Hangman. It should have been a celebratory hug to Hangman then Kenny. I understand friendships. I catch myself doing the same thing especially if I know one person more than the other. However, now that Kenny and Hangman are a tag team, the love should be both.
All teams are great athletes. The match will have it's spots. The match will convey a lot of story and emotion. After this match, Hangman Page needs to find himself a character. He's currently playing a drunk character — showing up to the ring with beer or grabbing a beer from a fan after his matches — which is getting stale. It's fun for a while but I need Hangman to become something more so he can stop getting lost in the shuffle. And that's what this whole story is about. That's the underlining problem with the Hangman character. He got the nickname 'hangman' due to actually hanging Chris Sabin in Ring of Honor one time. He has the potential, just currently I don't see it being capitalized. And if it is, this is amazing long term storytelling in the end.
Prediction: Kenny Omega and Hangman retains.
---
MJF vs Cody
This match is coming a conclusion tomorrow. The feud started in November 2019. Full Gear was the name of the PPV. During Full Gear it was advertised that it'll be Cody vs Chris Jericho for the AEW World Heavyweight Championship. In Cody's corner was MJF. MJF threw in the towel during that match to forfeit on behalf of Cody. MJF was distraught and deeply regretted doing so but he was looking out for his friend, his mentor Cody. Or so we thought. While he had the crowd stunned with his decision, MJF kicked Cody below the belt. The crowd then became furious, trying to understand the situation. MJF just turned on Cody. Over the next months and into the new year, Cody tried desperately to get his hands on MJF. It wasn't until recently that Cody offered MJF several options to get MJF's attention. Cody offered his watch, 50k, and more. But MJF wasn't satisfied with those demands unless MJF had control. MJF knows that the more control he has, the fun it is for him. He gave Cody three demands in order to have a match with him:
1) Cody could not touch MJF. If Cody touched MJF in any way, the match would be canceled.
2) MJF will choose Cody's opponent for the first ever cage match in AEW. MJF chose his body guard Wardlow.
3) Cody must take 10 lashings on national television.
Cody accepted and gracefully completed all stipulations. Cody can now face MJF tomorrow on AEW Revolution.
This is authentic old school storytelling. I appreciate that. Cody knows what he's doing with AEW, with the crowd, with the storytelling. After all the hell Cody has been through, he needs to win this. There isn't much left in the storyline.
Prediction: Cody wins.
---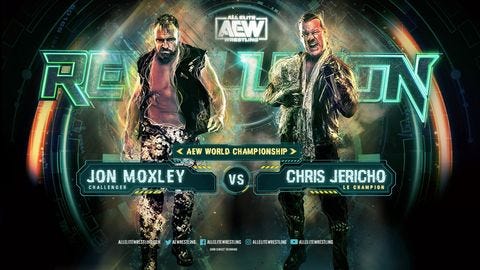 Jon Moxley vs Chris Jericho
Will Mitch be avenged? Will Moxley ever pay for that Jericho jacket?
For anyone that don't know, Jericho and Moxley were both in WWE. Jericho is a legend, an amazing living icon changing through the decades of his historic and prolific career. Moxely was once known as Dean Ambrose and part of The Shield in WWE. During their WWE runs, they feuded. Ambrose (at the time) had his own show and had a plant named Mitch. Jericho killed Mitch the Plant. Ambrose destroyed Jericho's light-up jacket. What does this have to do with AEW? Over the past month, the storytelling is better than WWE creative. AEW doesn't have a writers room at the moment. Most wrestlers behind the scenes have a good amount of creative direction. Tony Khan (owner of AEW) gives direction and dictates what should happen in the show, but the wrestlers make what's given to them into gold. Jericho is amazing on the microphone. And there isn't enough praise in the world to give this man. Did you guys know that he's the lead singer to Fozzy? This man does it all at the young age of 49.
Moxley left WWE and that was the best decision for his career. All of Moxley's accomplishments in WWE were circumstantial. The Shield was a good run, however, when Seth Rollins and Roman Reigns got injured, WWE placed the title on Ambrose (at the time). From there creative didn't know what to do with him. Then when the main stars: Seth Rollins and Roman Reigns came back from recovery, the whole dynamic changed. Ambrose became lost in the shuffle doing promos and angles deemed "good shit" by Vince McMahon.
Presently, Moxley explored New Japan Pro Wrestling. He's loved there and wrestles on occasion while wrestling for AEW. AEW is the only company that allows their wrestlers still compete with other companies. WWE restricts all of that unless it's Evolve. Moxley is a hardcore and technical wrestler. His character is slowly developing over the months since debuting. He had a fantastic match against Kenny Omega in an unsanctioned lights out match on November 9, 2019. I gave him huge praise and he earned my respect which can be heard on the podcast here:
<iframe src="https://anchor.fm/squaredcirclepodcast/embed/episodes/Squared-Circle-Podcast-S1-EP6-AEW-Full-Gear-Review-e9340j" height="102px" width="400px" frameborder="0" scrolling="no"></iframe>
After that match, I crave to watch Moxley more. His feud to Jericho is entertaining and left you wanting to know what happens next. Jericho took Moxley's eye. Moxley wore an eye patch due to the injury. Moxley wrestled with limited vision. And then Moxley took Santana's eye as well. Santana is part of the Inner Circle. Moxley sent a message to Chris Jericho by doing that. Moxley destroyed the Inner Circle from the inside out by agreeing to join only to kick everyone's ass. That happen before taking Santana's eye sight. Moxley has become an unstoppable force in pro wrestling. The best and quickest turn over in his career that didn't hinder him.
Come tomorrow, Jericho puts the title on the line against Moxley. I've said it on the podcast that Jericho makes stars. Jericho makes smart decisions in regards to storytelling and helping to advance the careers of others. Moxley is hot on the scene. Moxley is loving wrestling again, the fire is there. He's able to be himself. Now, will Jericho put him over? Will Jericho drop the title? And if Jericho does, what will he do with the Inner Circle? How will Jericho recover from losing something that he built to be a serious token of the sport?
I enjoy Jericho carrying the company, however, I peeked those Fozzy dates so maybe Jericho drops it. If Moxley gets the title, what will he do? Nothing is set up so here's how we can keep this story going:
Story: If Jericho retains the championship, Moxley should take out each Inner Circle member one by one. Jericho will be going on tour with Fozzy come April. While Jericho is away, the Inner Circle guys need to hold down the place but are unsuccessful. When Jericho comes back from tour, Moxley vs Jericho 2 happens and that's when Moxley dethrones Jericho.
If Moxley dethrones Jericho tomorrow night, it would be early in his AEW career and there won't be enough momentum to push Moxley forward. I want Moxley to develop his character further rather than obtaining a title early and falling flat. Moxley has great fan support but everything in pro wrestling is about timing.
So here's my prediction: Jericho retains.
---
Thank you for reading this article. I hope you understand AEW a little more. Please, comment with your predictions! Let's have a conversation! I'll mention any comments on the podcast! Also, sign up if you enjoyed this! Thanks!