Once Upon A Time In The Bronx
Bronx Wrestling Federation brings you hard hitting indie wrestling action and Marie Shadows has you covered!
There are so many wrestling stories and I got one to tell you: Once Upon A Time In The Bronx.
Bronx Wrestling Federation books crazy action matches that entertain the crowd from start to finish. I highly suggest coming to the next show: April 11th. I've attended a lot of BWF shows in support of JD Alpha and others. This is my review of their March 7, 2020 show.
---
Steve Mack (NYC Champion) vs Brando Lee
Steve Mack is a dangerous person. He walked around with a machete and the BWF New York City Title. While it's an honor to represent NYC, he claims that Brooklyn is the best above all the rest. Do you think that's true? He has the heart of a Brooklyn Knight and a fighting warriors spirit. He laid down a challenge that night on March 7, 2020. An open challenge for his NYC title. His opponent was Brando Lee, a two year rookie wrestler looking to make a name for himself in the squared circle. Brando Lee is small in size but fights like a confident big man. He took Steve Mack to the limit despite feeling many heavy attacks from Steve. Brando Lee didn't give up. The young prospect didn't know the phrase of "staying down." At the end of the match, Brando Lee had pinned Steve Mack for the 3-count. However, Steve Mack had his foot on the rope. Such a vetern move. The referee saw that and while Brando Lee celebrated with the NYC Title for a short time, the decision of the victory was reversed. The match was to be restarted and in the end with a power bomb from Mack — over. Mack retained his NYC Title.
***
Vicious Vicki (BWF Womans Champion) vs Nakoma Tala
Nakoma Tala wrestled for Bronx Wrestling Federation before. I don't know much about her. She's Native American. And she took Vicious Vicki to the limit in their match. Vicious Vicki is the BWF Womans Champion — first ever. She's a New Jersey native and making a name for herself in New York City. She's fearless in the ring — almost commands the ring. The match had a lot of back and forth action especially who had the bigger strength advantage. In the end, Vicki picked up the win to retain her BWF Womans Championship.
---
BWF introduces the Battle Bowl Series. One of the strengths for BWF is their TAG TEAM DIVISION. It doesn't matter what happens between wrestlers, tag team wrestling thrives at every BWF show. BWF creates new tag teams and even brings back old tag teams from back in the day. The Battle Bowl Series is contested under a point system. For every victory in a match earned grants the tag team 1 point. This next tag team match delivered an old school vs new school atmosphere.
Zoltan vs Sambo Show
Samuel Adams and Lobo
Zoltan (Kris Kage and Whiplash)
This match was great. Sambo Show looked and felt like a million bucks. Sambo Show had a quickness to their tag team ensemble. The team executed tag team moves together. Above are some the pictures I captured. Sambo Show and Zolton personified the old school vs new school tag team wrestling. The styles meshed well. Hard hits, fast hits, and both teams doing double tag team moves. In the end, Zolton defeated Sambo Show in the BWF Battle Bowl Series to gain a point.
I highly want to see Sambo Show back in BWF. Sambo Show has great energy and moves. Lobo is a beast in the ring. Samuel is a striker in the ring. Their size compliments their tag team moves in the ring. Lobo can strike hard and fast, knocking his opponent out. Samuel can methodically work his opponent and surprise them with high flying moves. And it doesn't matter who does what since their style is interchangeable. Other tag teams should beware.
---
Nikos Rikos vs Chris Barton (member of Satsujin Squad)
(I know I said highlights and I know I did highlights for this match, but it got lost in the shuffle. Squared Circle Podcast on YouTube presents a freebie of a full match.)
Chris Barton is a beast. Everything he does intimidates the most confident of opponents. Chris is a hard hitter as well. Every blow means you'll be gasping for air, holding your chest, and trying to regain some feeling in your body. Chris Barton bloomed in pro wrestling during the Fight the World days. I'm proud of Chris. Chris currently teams with Dominick Denaro (our BWF World Champion). Both as a tag team made headlines and became stars on the independent scene traveling everywhere they could along the east coast. Ever since Dominick picked up the victory to dethrone TJ Marconi for the championship title, their tag teaming days slowed down — slightly. Now, Chris is on a warpath to show the world that he can hang by himself in the world of pro wrestling.
This is his first singles match in a long while that I've seen live. His opponent is Nikos Rikos. Nikos is used to wrestling smaller guys like Brother Greatness and JD Alpha to name a few. When the match began, Barton's hard hitting strikes slowed the match down. It felt as if Nikos didn't know what hit him. And Nikos was thinking of a way to bring the big monster down. Attacking the legs always helps. Nikos worked on Barton's knee. It helped, but Barton is relentless and furious with his attack. Nikos managed to get the advantage, focusing on the knee. It looked like Barton would win this match on strength alone. However, sneaky roll ups that place a lot of body weight on the shoulder area allowed Nikos Rikos to get the surprise victory over Chris Barton.
The match was an incredible showing of Chris Barton back to a possible singles run. He'll always be the Beast of Bushwick.
---
BWF Battle Bowl Series Match #2
Mantis and Nicholi White (Photosynthesis) vs Rufus and Mad John
Mantis believes the world is his garden and that we — ordinary humans — frankly don't belong. He graces us with his ivory leaves and green mist during every performance in the ring. He's going places. Nicholi White became an overnight sensation with his "Drink More Water" motto. White is extremely talented thus why this tag team needed to form.
Over the past months, Mantis has battled against White. Spectacular matches from high flying to technical style. Their styles compliment them, including color choice for their outfits.
Mantis sees himself as an individual. White sees himself willing to work with whomever. White provides the water for Mantis' garden to help this team grow, but Mantis wants nothing to do with White or their newly formed tag team — Photosynthesis.
During this match Mantis and White worked as a team for the victory despite having disagreements. Mantis has a specific way of capitalizing on an opponent and disliked anything that White did. White would deliver a move to Mad John but didn't cover quick enough to get the potential victory. Small attention to detail inside the ring matters, and that's what Mantis wants White to realize. On the flip side, White respects the ability of Mantis in the ring and isn't as pushy for Mantis to deliver so high like how Mantis wants White to do so.
I want to see where this tag team goes. I'm invested.
---
Brother Greatness (Cruisewieght Champion) vs Chris Steeler
Chris Steeler looks like Shawn Spears brother. It's a little uncanny. He's good in the ring though.
Brother Greatness is our BWF Cruiserweight Champion. He defends the championship like a warrior. Any opponent, any time and place. His match with Chris Steeler was good.
This isn't the first time Steeler and Greatness meet in the ring. Steeler is a methodical wrestler. As shown in the highlight video above, he picks up Greatness and prepares to throw him into the turnbuckles. Greatness falls with a resounding thud. Later in the highlights Greatness does his famous wheelbarrow twist into the double knee facebreaker to stun his opponent Steeler. Does that allow him to pick up the victory?
Brother Greatness is not only a proud champion of the Cruiserweight division but a proud wrestler that travels all along the east coast. Greatness has an amazing connection with the fans and it's exciting to feel the energy when his music plays.
While Greatness is a fighting champion, he's often a target for challengers to test their might. One such challenger, Josh Glide wants a shot at the BWF Cruiserweight Championship.
---
Fatal 4 Way: Josh Glide vs Sebsatian Cage vs JD Alpha vs Leland Parker
Josh Glide took a hiatus from pro wrestling. Now he's back — hungry and focused to reclaim top glory in BWF. He makes no secret that he wants gold around his waist. He's targeting Brother Greatness and Greatness isn't backing down from that challenge.
Sebastian Cage is an established wrestler in his own right. He's wrestled for Pro Wrestling Magic and more. He's starting to become a household name in BWF. Talented wrestler.
JD Alpha is the man that never played WWF No Mercy, a former IWA Light Heavyweight Champion, and BEST ON THE EAST COAST! It's not a gimmick, but a lifestyle when Spanish Fly Hall of Fame comes to a town near you.
Leland Parker is a member of the two man faction BX Strong [2Gud] (never a tag team). Leland Parker used to be JD Alpha's tag team partner back in the day.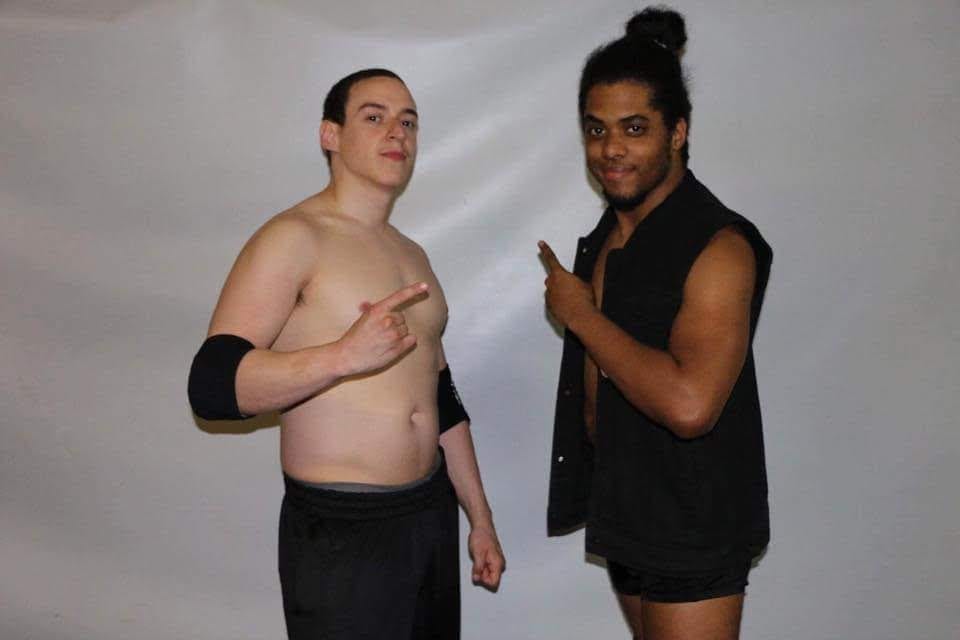 Then one day, Leland left: no word, no call, no note — nothing. Disappeared and then reappeared recently with a two man faction without even a simple reconciliation with Alpha first. It was cheap to leave a humble JD Alpha like that.
But it's cool. Leland is still great in the ring. Smooth and precise as ever. JD Alpha endlessly evolving his style in the ring, raining Spanish Flys on everyone. Leland is forgiven — by me, Marie Shadows at least — despite knowing, no witnessing Leland helped BX Strong Tombstone JD Alpha on a Nintendo 64 for having not played WWF No Mercy — but when the fuse smolders all hell will break loose if and when JD Alpha and Leland Parker square off for old times sake.
The fatal four way match for BWF's Once Upon A Time In The Bronx had all the action one could ask for. JD Alpha and Parker started things off, reading each other's moves so well during the whole match. Against and/or paired, it's an uncanny symmetry from Parker and Alpha. While the center of attention in the ring, both kept reversing until Alpha connected with two stiff forearms and after Parker doing a Northern Lights Suplex. Later during the match, the two performs a tag team move. Fatal four ways are supposed to be every man for themselves.
Alpha and Cage squared off for a bit. After, Glide and Alpha faced off. But in the end, Glide picked up the victory and taunted Brother Greatness reminding him that he's coming for that Cruiserweight Championship.
---
Honorable Mention: Johnny Santos vs Matt Awesome
Over the weeks, Matt Awesome has become furious with the now ex-tag team partner Johnny Santos. Matt grieved when his loyal companion passed away. Johnny was on vacation. He came back to settle the grudge between him and Matt. However, with emotions running high…was there a winner?
---
BWF Tag Team Championship Match
BX Strong (Ace Andrews & Big Cuzzo) vs Rekon & Erick Jayden (The Satsujin Squad)
BX Strong is a young tag team that lays down a path of success everywhere they go. They are clever and witty. They are our BWF Tag Team Champions. They fought long and hard to be placed in this position. Everyone wanted a shot at the tag team championships. The Satsujin Squad tried their hand.
The Satsujin Squad, I believe, was once very dominant in the tag team division world and singles. The members are as follows: Erick Jayden, Rekon, Chris Barton, and Dominick Denaro. I remember hearing their names everywhere on the independence — even on social media. Now, it's a dwindle of noise. Dominick and Chris are the only two I know going places. That's not a knock to Rekon or Erick Jayden. Rekon can take a beating. Watch the full match over at Squared Circle Podcast YouTube, and Rekon takes Big Cuzzo's punishment during the whole match. It seemed as if Cuzzo and Ace had The Satsujin Squads number the whole night. Both teams brought the hype and energy. It felt like a war. BX Strong doesn't want to give up those titles and they fight like warriors to keep them. The Satsujin Squad feels damaged — I smell a break up soon with Denero leading the way. That's a bold statement. I know. But all the drama has played and the logical conclusion is the one I made.
The Satsujin Squad translates too Murder Squad. They used to murder all around town. They used to hold every title possible. No one wanted to mess with The Satsujin Squad. But lately with a sudden change in power, because holding a world title is powerful, the team looks to be imploding. Denero is the only one keeping the team together with his honesty, loyalty, and heart. But if The Satsujin Squad doesn't evolve to become fresh and remind everyone why a four man team should be feared, then it'll be dust in the wind. The Satsujin Squad can benefit from a hiatus.
BX Strong is just beginning their reign in BWF and other places.
Overall: storytelling on point; emotion on point; energy on point.
---
Dominick Denero (BWF World Champion) vs TJ Marconi
This is a rematch from last month, Feb 1, 2020 when Denero dethroned TJ Marconi for the BWF World Championship. It's an old school David and Goliath story. And oh my, how the mighty fall. It didn't feel real looking back on Feb 1, 2020 when the referee hit that three count and Denero's hand was raised. Denero put in the years and hard work to become champion. He blossomed into an intimidating wrestler with a heart of gold and a fits of guts. Most of all, he's my BWF World Champion.
So what's different now with this rematch? There's a chance TJ could regain the title back. TJ took out the Satsujin Squad to give some time towards dominating Denero. The action was intense. The war feeling from the last match lingered in the arena. Denero smartly attacked the legs of TJ. Denero gave TJ some quick jabs, kicks — anything to keep the big man down and hurting. Sometimes TJ overpowered Denero but like a soldier in battle, got back up and reversed to take down TJ. In the midst of all the emotion and action, it looked like Denero was one the verge of losing. A swift decision of interference was made. A chair swings across the back of TJ Marconi. The referee had no choice but to call for the bell giving Denero the DQ. Denero remains champion but the call didn't sit right with Denero.
But that gave Denero no time to relax. TJ was unleashed and frustrated about the chair shot and the call. Went on a rampage against BWF personnel ultimately resulting in heading the "back of the line" for title shot contentions. TJ gave an ultimatum: winning three matches will result in his chance of facing Denero for the title.
Can TJ pull off three wins to face Denero?
---
Well guys, that was my review of BWF. It's a spotlight of up and coming young stars in the business equipped with their stories. I hope you enjoyed it! If so, think about coming to the April 11th show!
Also, please share and comment so I can improve on this newsletter. Consider taking the share and comments to an upgrade by sponsoring me with a monthly subscription of $5 or $60 to ensure I can at least eat and travel to more events to provide amazing coverage like above. Think about it. Thanks.