Good morning everyone! I want to thank everyone that has signed up! I appreciate every member.
WELCOME TO THE KEEPIN' IT KAYFABE CREW!
Here's some stories from this past weekend - 2.22.20:
I traveled to Nutley, NJ with JD Alpha and friends. JD Alpha was driving. In the car we had the 2 man faction (please don't ever call them a tag team!) of Ace Andrews and Big Cuzzo along with sometimes intern most times wrestler Leland Parker. We also had Matt Awesome in which I conducted a small quick interview with him. We talked about his debut in Intense Wrestling Alliance (I believe I got the name of the company wrong in the previous newsletter. The company just changed their name.), his thoughts about his upcoming match on March 7th for Bronx Wrestling Federation, and he sent out a message to his former tag team partner Johnny Santos.
I remember the first time driving to Nutley, NJ it took forever. It's always the first times that seems to stick with you. Now, we get to Nutley within a hour. So we quickly stopped at Wendy's for a bite to eat. The location of the venue has nothing around. It has a cafe that makes and charges dinner prices for their hearty food. There's a small shop but I wouldn't remember the walking trail. So make sure to eat before arriving at the the venue.
---
Behind-the-scenes:
Back in the day of pro wrestling, no one was allowed to lift the veil of the curtain to bring you insider knowledge. I still uphold that to this very day but I'm allowed to share stuff with you guys. I'm old school, even if I'm turning 29 next month. But let's have some fun.
First of all, this venue for IWA is in a church and down the hall is a bar. The best thing I've ever seen. Can't make this up. Maybe next time I'll take a picture of both.
(April 19th)
The bar room is reserved for meet and greets. We didn't do a meet and greet this time. Last show for last year we did and we sold 3 out 4 JD Alpha shirts. That was nice.
(Want JD Alpha merch? JD ALPHA SHOP with ALPHA20 for 10% off until Feb 29.)
So, for anyone that's a gamer or at least casually games or knows about games probably played or had a friend that play this one particular game: WWF No Mercy for the Nintendo 64. Well within the wrestling community, it's a sin to have not played this game before. The guilty indie wrestler? JD ALPHA!
JD Alpha is guilty of NOT playing WWF No Mercy. I even bother him on it. His response: It's not that serious.
IT IS THAT SERIOUS! [Interview with JD ALPHA]
So I took a picture of all the wrestlers beating him up! It became a huge move chain galore on him and others!
---
After that, I interviewed Matt Awesome:
Thank you again, Matt! You're welcomed any time on the podcast!
<iframe width="560" height="315" src="
frameborder="0" allow="accelerometer; autoplay; encrypted-media; gyroscope; picture-in-picture" allowfullscreen></iframe>
---
As the hours came to the doors opening at 6pm and starting the show around 6:30pm, from start to finish the crowd was alive and the matches were good. If the crowd is reacting with boos, cheers, and yelling that means the wrestlers and the company are doing everything right. If the wrestlers and company hear silence, that's a bad sign. Luckly, it was really fun to be there. We had title changes and the crowing of new IWA Tag Team Champions!
New Intense Wrestling Alliance Tag Team Champions:
The 2 Man Faction of Ace Andres and Big Cuzzo!
Congrats to them on wining new gold! They'll be on the podcast one day!
And congrats to me for stealing a pic with the new IWA TAG TEAM BELTS!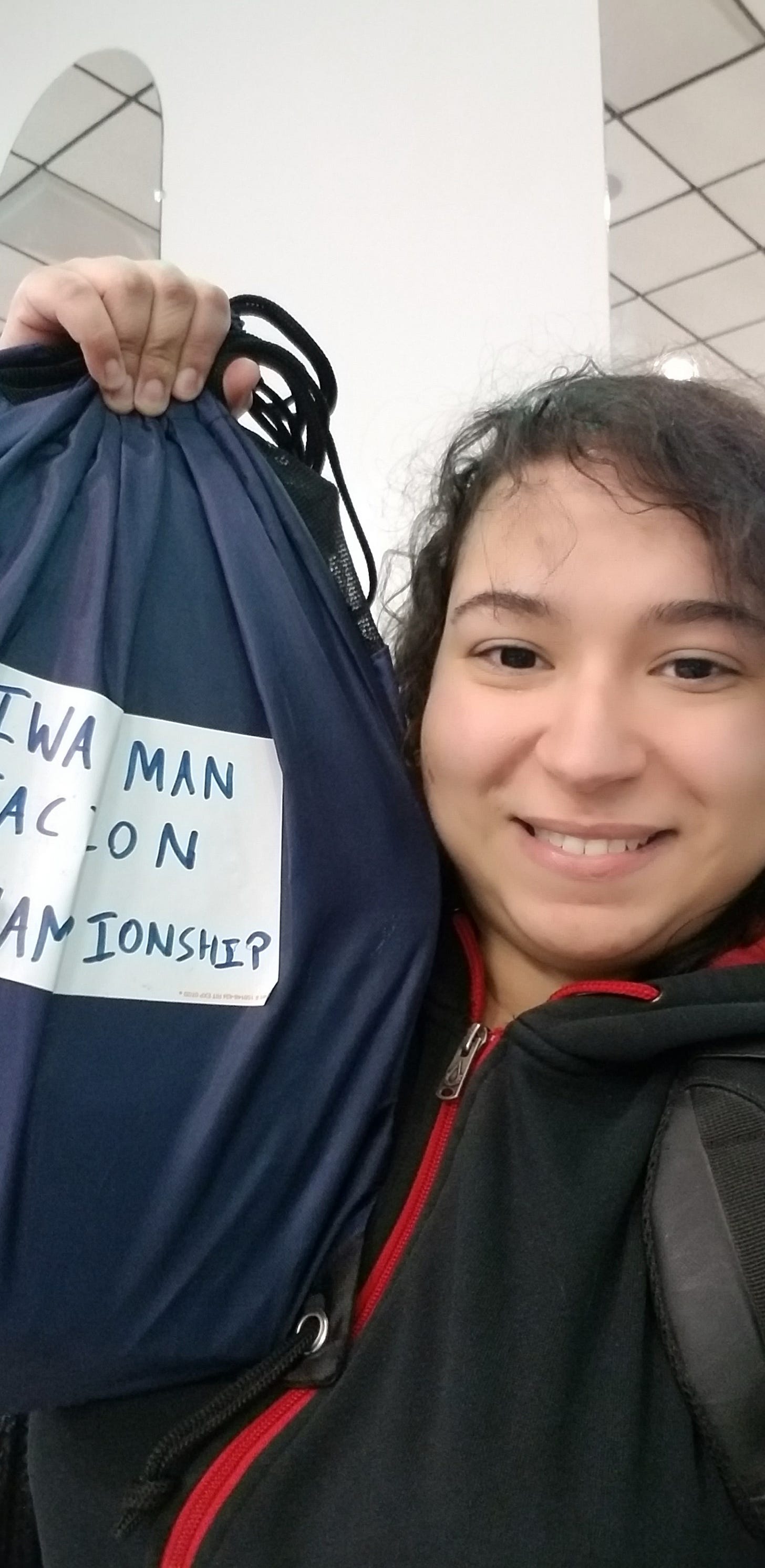 Aside from celebrating new title changes and crowing new champions, JD Alpha has his match that night also! He had intergender match!
JD Alpha teamed with Karen Bam Bam to take on Nikos Rikos and Vicious Vicki! Watch the FULL MATCH down below!
<iframe width="560" height="315" src="
frameborder="0" allow="accelerometer; autoplay; encrypted-media; gyroscope; picture-in-picture" allowfullscreen></iframe>
---
After the show we went to Nutley Diner. Had a great time eating amazing food with the guys. I love these guys to death. And it's cool to be their biggest supporter by helping them create ideas for long term storytelling, create better ideas for their characters so it won't beocme stale quickly, take pictures of them and for them, record their match. I love to shine a light on these guys. Now, I can't rush all these things. Baby steps are required. I don't have a 24/7 awesome phone as well. But I do what I can with the limitations I'm given for the time being. No matter what, my peeps and more will get their invdiviual spotlight.
---
Thank you again for signing up to the newsletter! I'm going to create another newsletter for my podcast epsiodes. I do not want to overwhelm everyone here with watch this and listen to that! I have to edit my podcast epsiodes. I completed 2 out of 3 podcast episodes.
What you'll get in the next newsletter:
1) My thoughts on the Substack event that happened on Feb 20th. A nice little plug for Harry and his Litt app (litt.nyc)!
2) My thoughts on IWA on Feb 22nd.
3) AEW Review for AEW Dark eps 19 and 20
4) AEW Review for AEW Dynamite 2.19.20
5) Wrestlers Court featuring JD Alpha (hopefully! Still in the works)
*Numbers 1 and 2 are in the same podcast. I seperated numbers 3 and 4 so you won't get overwhelmed with information!*
Amazing! I hope you guys enjoyed this newsletter! And if you did please make sure to share, tell your friends about it so they can sign up to wonderful adventure.
Please tag me on social media:
1) Twitter:
@Marie_Shadows
@squarecirclepod
As for me, I'm taking my boyfriend to the doctors since he's sick. I wanted to make sure I get this out today so everyone can enjoy (some) content!
Again, thanks! Much love guys!
-Marie Shadows